Next-Generation Lead Capture and Sales Conversion Technology
Finally, there's an easy, integrated solution to capture leads through your website and multiple content channels, while personally engaging new prospects to grow your sales revenue. Steve Shaw, takanomi.com
---
How about a single solution that not only gives you effective lead capture on your website, but also captures leads from multiple content channels across the web?

What if that solution also intelligently determines when (and where) leads have been captured, so you can provide personalized web experiences and calls-to-action that research* shows increases sales and conversion rates?

That solution is optinopoli™. It installs in seconds. Launch new campaigns within just a few minutes. With optinopoli™, capturing, engaging and converting leads into buyers has never been easier.

Even better, you can start capturing new leads today for free, no card required—and continue using it for free for as long as you want. Upgrade in seconds to access business-level features to build sales revenue and maximize conversions.

* Research by SmartFocus
High Conversions
Launch high-conversion, fully responsive lead capture campaigns on your site and web-wide in minutes. Creatives include Lightboxes, Smartbars, Welcome Mats, Widgets and Landing Mats.
Show me examples of high-conversion creatives
Personalized Engagement
Grow sales revenue by intelligently determining when and where each lead has been captured, and providing personalized engagement that converts leads into buyers.
Show me how personalized engagement works
Easy to Use
optinopoli™ installs in seconds and is suitable for virtually any website. Launch and manage campaigns from our intuitive dashboard. Lead capture and conversion has never been easier.
Show me how I can capture more leads
Ready to get started?
Start running high-conversion lead capture campaigns within the next 5 minutes—completely free, no obligation, and no need to enter card details. Simply enter your email now to get started...
optinopoli™ transforms lead capture and conversion
How Are We Different?
---
Here are three big ways we're different to everything else out there...
Web-Wide Campaigns
Capture leads from content channels across the web—run multiple, integrated campaigns on your website and elsewhere, including social. The result? More leads and sales revenue.
Easy Control
Controlling campaigns running on your site and elsewhere couldn't be easier. Create, start and stop campaigns via our intuitive, easy-to-use, purpose-built dashboard.
GDPR Compliance
optinopoli™ makes GDPR easy. Our compliance tools include auto-recorded signup forms, checkbox controls, and geo-targeting for EU/non-EU site-based capture and conversion campaigns.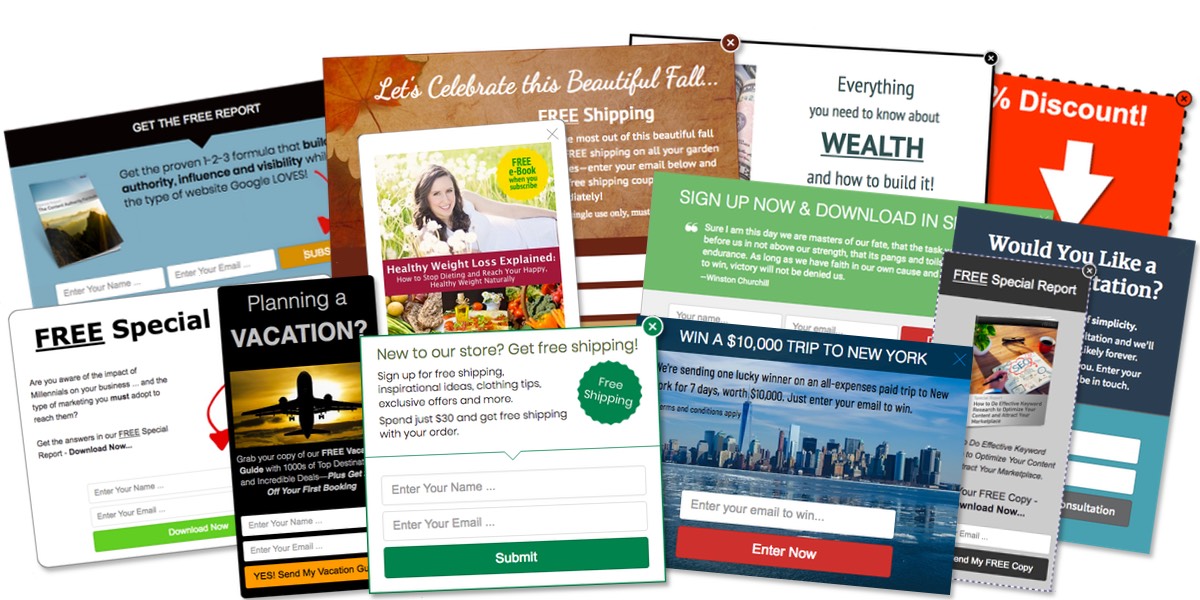 Attract More Leads and Grow Sales Revenue ... With Web-Wide Lead Capture Technology
Packed with Powerful Easy-to-Use Features that Capture More Leads and Grow Your Sales Conversions
---
Our unique, next generation lead capture and sales conversion technology captures leads from your website as well as from your content channels across the web. At the same time, it grows sales through personalized engagement—and all in the quickest, easiest, most efficient way possible.

I've found using optinopoli easy—and that's from someone who's not technical and gives up on many processes when they're too difficult. Thank you! Dr Jo Righetti, petproblemsolved.com.au
And much more ...
including advanced visitor targeting options for campaigns,
easy management and download of lead magnets such as whitepapers
, and 150+ professionally designed, instant use campaign templates to get you started.
Start free now
to find out more.
Ready to get started?
Start running high-conversion lead capture campaigns within the next 5 minutes—completely free, no obligation, and no need to enter card details. Simply enter your email now to get started...

Businesses that create personalized experiences for customers are seeing revenues increase two to three times faster than those that don't. Boston Consulting Group

Run Personalized Engagement Campaigns That Grow Sales
Engage and Convert Leads by Personalizing Their Experience ... That's Just Smart Marketing
---
Most business websites run lead capture campaigns that either stop as soon as a visitor's entered their information, or continue offering the same thing when the lead returns. That's a massive wasted opportunity for revenue growth. What if you could convert new leads into buyers with personalized experiences, proven to increase sales by 20% or more? That's exactly what optinopoli™ does.
How? Run follow-on campaign(s) on auto-pilot to new leads, moving them through your sales funnel and converting them into revenue. It's smart marketing that engages visitors by personalizing their experience—based on their previous behavior —and helps you meet your sales and marketing targets.
Here's how optinopoli™'s Smart Campaigns work...
Convert
Run campaign(s) on your website and content channels to convert eyeballs into leads. Use email follow-up* to drive them back to your website.
* We integrate with multiple CRMs.
Engage
Run follow-on Smart Campaigns to provide personalized engagement, build your relationship, and convert leads into buyers.
Grow
Research shows personalized experiences increase sales by 20% or more and personalized calls to action result in a 42% higher conversion rate*.
* Research by SmartFocus

As a conversion specialist, I'm always looking out for what businesses can do without being so complex they would never use it—optinopoli is awesome. Love it! Greg Newell, 50bubbles.com

Effective—Efficient—Easy
Run High Conversion Lead Capture Campaigns on Your Website and Across Multiple Content Channels—While Converting Leads Into Buyers Back On Your Website
---
Get started with your own high conversion campaigns within the next few minutes—it's easy!
Convert visitors to your website into leads—and leads into buyers—using our Lightbox, Smartbar, Welcome Mat and inline Widget creatives. Control targeting, visual effects, display rules and more directly from our intuitive dashboard. Use Landing Mats to attract new leads from content channels across the web, including social media, YouTube and elsewhere.
All creatives are fully responsive and auto-adapt for different devices, maximizing your conversions. They're flexible and fully customizable to meet your needs. Use creatives for lead capture, as well as to drive traffic to specific pages and to make announcements, for example for forthcoming promotions. Use creatives in follow-on campaigns to convert leads into buyers and grow sales revenue.
150+
Background Gradients
150+
Instant Use Templates
Free Email Service Provider and Data Integrations
Start Automatically Capturing New Leads From Your Website and Across the Web 24/7
---
Integrate in seconds with autoresponder and email service providers to send lead information directly to your CRM and/or use POST notification webhooks to send direct to your server. In addition, choose to receive confirmation of lead data via instant email notifications.
If your CRM isn't listed, please ask for information on our latest integrations.












Personalized web experiences increase sales, on average, by 20%. Monetate

Start Free—Upgrade for Business-Level Access At Any Time
Start Using Our Next-Generation Lead Capture and Sales Conversion Technology Today
—for FREE
---
Set up a free account today in seconds and access everything you need to start capturing more leads on your website and across multiple content channels. There's no obligation or time limit—you don't even need to enter card details.
For access to business-level features to build sales revenue and maximize conversions, upgrade at any time via the dashboard after logging in. So you can upgrade with complete peace of mind—and because we're so confident you'll love optinopoli™—upgraded plans come with a full 30-day no-questions-asked money back guarantee.
Starter
free
doneUnlimited lead capture campaigns
doneLightboxes, Smartbars, Welcome Mats, inline Widgets and Landing Mats
done60+ instant-use high conversion templates
done150+ preset background gradients
done150+ designer fonts
doneAdvanced page and visitor targeting info
donePowerful transition effects info
doneTraffic and conversion analytics info
doneAutoresponder integration info
doneWebhooks info
doneLead magnet management info
doneSingle website
done10,000 pageviews info
doneNo time limit or obligation
doneAnd much more...
Business
$

2919

*

+ VAT

Everything in Starter, plus...
doneUnlimited click and announcement campaigns info
done150+ instant-use high conversion templates
doneAB (split) testing info
doneSmart Campaigns for personalized engagement info
doneSchedule campaigns info
doneAdd conversion scripts info
doneAuto-record opt-in forms for GDPR compliance info
doneGeo-targeting info
doneRemove optinopoli™ logo info
done50,000 pageviews info
donePriority support
Start free, then upgrade after logging in:
Start now
Pro
$

3929

*

+ VAT

Everything in Starter and Business, plus...
doneMultiple websites info
done100,000 pageviews info
Start free, then upgrade after logging in:
Start now
Need more pageviews? Have additional requirements?
Get in touch
to discuss your needs, including our Enterprise-level plans.
* Introductory pricing available for limited time only.